Monty Roberts' Mustang & Transition Horse Program (MRTHP)
Re-training and re-homing horses in transition
Each year, hundreds of thousands of good horses find themselves in transition of career or ownership. And each year, a growing number of these horses end up at risk of inhumane treatment. It's time for all of us to come together and play a role in changing their story and fate.
Research by the ASPCA indicates there are over 1.2 million homes that have both the perceived resources and desire to house an unwanted horse. This number greatly exceeds the approximately 200,000 unwanted horses living each year in the United States.
However, a lack of high-quality training for remedial issues and wild / feral horses is one of the most consistent, ongoing needs for horses in transition. A well-trained, safe and pleasant horse has a much higher adoption rate, lower length of stay in a shelter and a higher likelihood of staying safe for life.
While tracking wild mustangs in Nevada as a boy, Monty Roberts observed a nonverbal communication between the horses, a silent language he would later call Equus. Monty incorporates Equus into his nonviolent training approach called Join-Up®.
Monty Roberts first developed Join-Up to stop the cycle of violence typically accepted in traditional horse breaking. Convinced there must be a more effective and gentle method, Monty created these consistent set of principles using the horse's inherent methods of communication and herd behavior. The result is a willing partnership in which the horse's performance can flourish to its full potential, rather than exist within the boundaries of obedience. These principles are valuable tools to understanding what motivates horse behavior and increasing effectiveness in any application.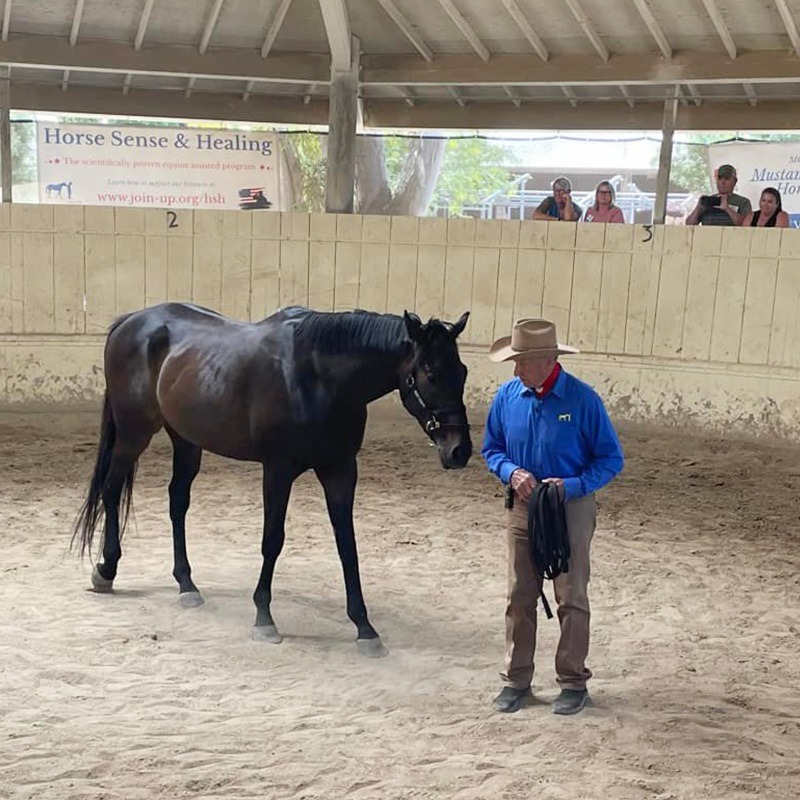 Adoption Partner Trainer Program
In addition to re-training and re-homing horses transitioning to new careers, the MRTHP has partnered with the ASPCA's Right Horse Initiative and the Mustang Heritage Foundation's TIP program to offer trainers at select adoption partners the opportunity to further their horsemanship skills and knowledge of equine behavior.
This training is offered initially through three- to eight-week internships at our center at Flag Is Up Farms on California's central coast. Interns that meet additional requirements are able to apply for scholarships to receive further training and certification in Monty's globally renowned fast, gentle, effective methods through our Monty Roberts International Learning Center.
Trainers with Right Horse Adoption Partners or the MHF's TIP Program can apply for the internship by contacting [email protected]. Please include a short bio including current horsemanship experience, length of time with the applicable Right Horse Partner or the MHF, and any relevant qualifications.