Life-transforming workshops for Veterans and first responders
Horse Sense & Healing, launched in 2010, is a 3-day equine-assisted workshop for Veterans and first responders struggling with posttraumatic stress (PTSD). The equine-assisted program helps Veterans and first responders (and their families) overcome past emotional injuries and learn to trust, communicate emotions and build resiliency to cope after deployment, through the experience of Monty Roberts' globally acclaimed Join-Up® process and other ground-based horsemanship activities.
If you are a Veteran or first responder looking to apply for the program, please follow the link here or learn more below. 
Join-Up is an effective tool to help participants rediscover themselves through the eyes of the horse to deal more effectively with post-traumatic stress, emotional trauma, anti-social behavior and withdrawal, anger, self-worth, combat stress, hypervigilance, depression and other symptoms.
Monty Roberts' methods demonstrate the deeply healing power of establishing a trusting relationship with horses without the use of dominance, coercion or force. After three transformational days, participants can better understand how to trust others, deal with negative emotions, confront painful memories, cope with real-life situations, and move on with their lives and relationships.
"We have been working with people suffering from post-traumatic stress, over the course of six separate workshops each year. The results are coming in, and the outcome is fantastic. We have people laughing and getting back to a normal life who have been afflicted with service-connected post-traumatic stress for upwards of 35 years," says Monty Roberts. "All the way from Vietnam to Afghanistan, your local Police Station to the Ambulance Driver these injured heroes come home in a terrible state and need our help to reconnect with their communities. The horses are doing their work with incredible efficiency."
History
While tracking wild mustangs in Nevada as a boy, Monty Roberts observed a nonverbal communication between the horses, a silent language he would later call "Equus." Monty incorporates "Equus" into his nonviolent training approach called Join-Up®.
Monty Roberts first developed Join-Up to stop the cycle of violence typically accepted in traditional horse breaking. Convinced there must be a more effective and gentle method, Monty created these consistent set of principles using the horse's inherent methods of communication and herd behavior. The result is a willing partnership in which the horse's performance can flourish to its full potential, rather than exist within the boundaries of obedience. These principles are valuable tools to understanding what motivates horse behavior and increasing effectiveness in any application.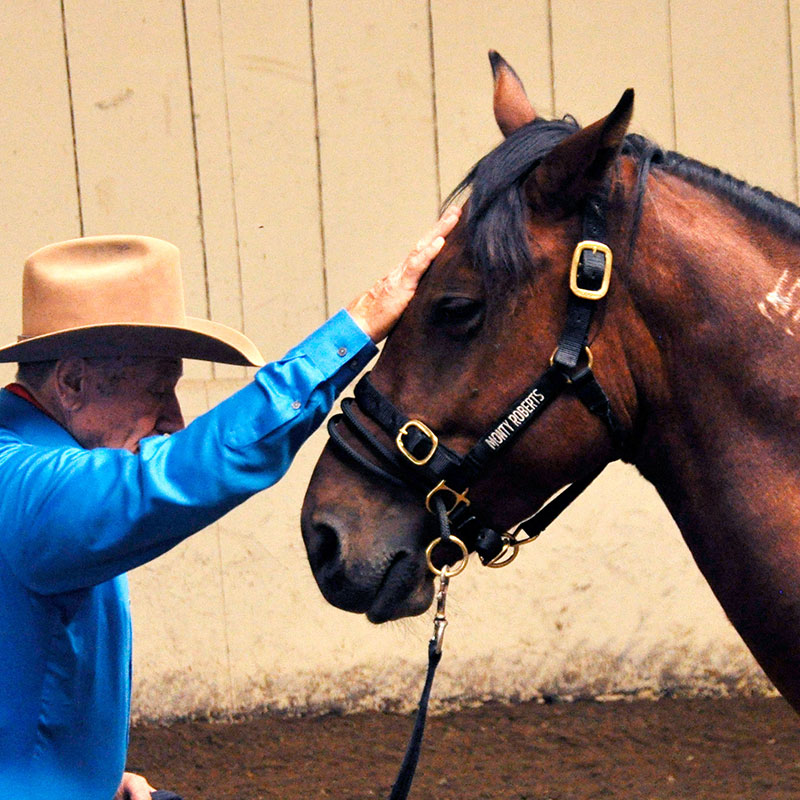 Veterans and First Responders experiencing symptoms of post-traumatic stress are welcomed and encouraged to apply for a future Horse Sense & Healing workshop.
There is no charge to the participant for the program, including two nights' accommodation and all meals. Participants are housed at Restoration Oaks Ranch – a beautiful, spacious farmhouse located a few miles away in the Santa Ynez valley. Participants are welcome to bring a supporter (a spouse, 18+ child, close friend or significant other) to the workshop.
To apply, please fill out the form below (or follow this link). Once your form has been received, one of our Program Facilitators will be in touch to provide additional program information and learn more about you. No prior horsemanship experience is necessary.
For any questions about Horse Sense & Healing please contact us at [email protected].
If you are in need of crisis support, please reach out to the following free 24/7 365 service:
988 – Veterans press 1 for National Veterans Crisis Line (www.veteranscrisisline.net)
The Horse Sense & Healing Story
When Discovery Channel inquired about filming a documentary of Monty Roberts' work, we thought it would be about horse training. But back in 2010 there was a growing concern in the military community that Post Traumatic Stress was a cause for the suicide rate of 22 deaths per day in the United States.
Horse Sense and Soldiers was released on the Discovery Military Channel in September 2010 and the phones at Monty's office began ringing asking for a program as seen on the documentary to help veterans and their families cope with the effects of Post Traumatic Stress. Monty Roberts and his team immediately began creating a program with input from counselors and doctors who were experienced with Post Traumatic Stress – and Horse Sense & Healing was born.
The Horse Sense & Healing program has been helping veterans, their families and now first responders too, overcome past emotional injuries and learn to trust, communicate emotions and build resiliency to cope after deployment. Like the horse, a flight animal, these heroes have found it difficult to trust again. The military developed boot camps to train for war but very little is done to re-train our service personnel to reenter domestic environments.
The center of the experience of these 3 clinics is achieving Join-Up® with a horse. Join-Up is a form of communication between a horse and a human, based on a body language of gestures, like signing for the deaf. Leading up to the Join-Up, many skills of emotional control, focus exercises and breathing are shared. Learning why the horse is a uniquely qualified species to help heal, the participants leave the farm with a sense of peace and hope.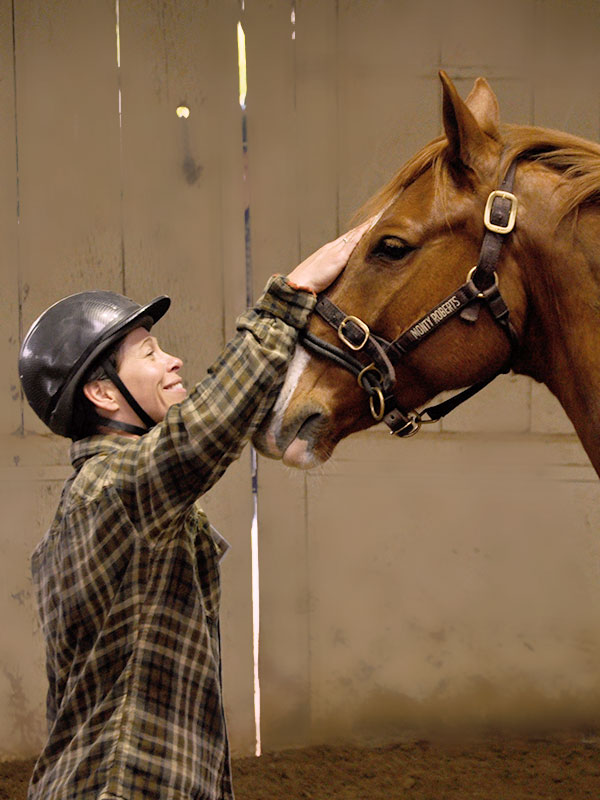 The Results of Our Science Trial
Monty Roberts, our founder, is known all over the globe for his work to end violence used in the training of horses, and with people. Horse Sense & Healing uses a combination of his groundbreaking horsemanship, and its parallels to Motivational Interviewing, to provide Veterans with tools to overcome past emotional injuries and learn to trust, communicate emotions, and build resiliency to better cope after deployment.
Monty Roberts has been encouraged by Her Majesty Queen Elizabeth II of England with the award of the Membership in The Royal Victorian Order. The Queen also honored him by becoming Patron of Join-Up International in 2012.
In May 2020 results from our four-year science trial were published. Data was collected over 3 years in this prospective, non-interventional, single center study. The results show breakthrough evidence of the effectiveness of Horse Sense & Healing in helping participants overcome the effects of posttraumatic stress. Participants had been deployed to 15 different conflict zones on their last tour of duty, most commonly Iraq, Afghanistan and Vietnam.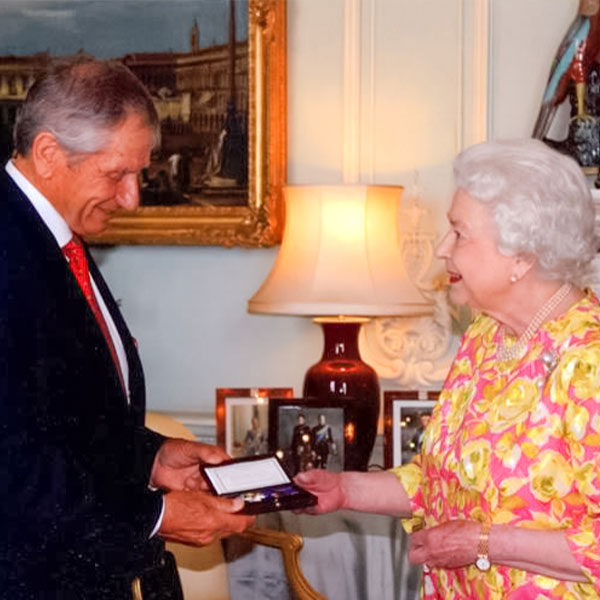 Participant assessments were made at Baseline, Day 3 and Day 85. The study found "score changes in post-traumatic stress symptom severity at Days 3 and 85 show a clinically meaningful improvement that is higher than comparative clinical literature assessing pharmacological interventions." This is the first completed study of an animal-assisted therapy program to report statistically significant, clinically meaningful results.
Further details about the study can be found here. Please contact us for further information.
How You Can Help
Fulfilling the work of Join-Up International takes the help of passionate supporters who recognize the importance of education and what it takes to achieve our goals. Join-Up International, Inc. is a 501c3 non-profit organization, tax ID 77-0459889. Gifts are fully tax-deductible as allowed by law.
Our Horse Sense and Healing clinics are free-of-charge to veterans and run solely on donations and grants. Help us put these deserving veterans and their families through this program by Spreading the Word, Sponsoring a Veteran, or by Making a Donation.
Here is how to help:
Donate by Mail 
If you would like to mail a check or money order to support our work at Join-Up International, please send your contribution to:
Join-Up International
Attn: Donations
Po Box 246
Solvang, CA 93464
Tax ID: 77-0459889
Monthly Giving Plan
By giving monthly you can help ensure the sustainability of our programs.
Please call us on +1 805 688 6288 to discuss your options.